Well, here it is, 14 days since the release of my first work upon an unsuspecting public, and I figured I would try to gauge my feelings, so far. Lots of things have been learned, realized and actualized.
But, most of all, I now know that I need reviews to sell more books.
Alas, it is a catch-22 situation. In order to get reviews, I need people to review it but I can't get people to review the book because they don't see many other reviews of the book out there and no one seems to want to be the first to write a review.
The funny thing is, to get reviews, I have to do something which has always made me very uncomfortable. I have to ask people to tell me what they think about my writing.
Soliciting feedback is crucial to sales, I've learned, but I've never been good at asking, so tell me what you think.
A few years ago, I wrote a book which actually is the genesis idea on which this current novella I have for sale, Flawless Mistake, was based. I'll write more about how Flawless Mistake came to be later, but now I'm going to stay focused and on topic …
So, a few years ago, I wrote a novel and a few of my sister's friends decided to read it, as a part of their book club, and tell me what they thought. Well, they set a date to discuss the book and when I showed up, I was so nervous about what they would say that I actually had a glass of wine! And I don't drink! I pretty much went to the discussion meeting thinking they would hate it. Well, they didn't. I think they liked it.
They gave me crucial, invaluable feedback that I incorporated into the "remix" of the novel which is now known as Flawless Mistake.
One of the other rare times I solicited feedback was when I worked at Barnes & Noble. But, the thing was, a lot of people who work at bookstores like to write, so when you ask them to read your work, they are most likely going to ask you to read something they wrote. So, it's a book swap situation. In those instances, I didn't feel so bad about asking people what they thought. And in those cases, people said nice things. But, I didn't bug them about giving me feedback.
Historically, the one person who has read all of my writing has been my sister, Angelique. And she hasn't always liked what she read, which is why I've always trusted her reviews. But, now, I need reviews from people who have read Flawless Mistake so I can entice more people to read Flawless Mistake.
So, even though it's super uncomfortable for me, I hope to get reviews from all of you who have been so supportive and kind enough to read the book!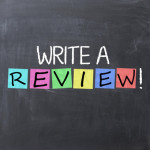 Click links below to post a review of Flawless Mistake